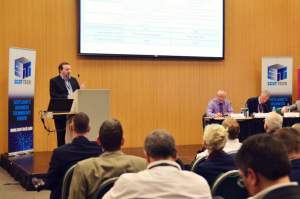 How I got the gig
In November 2015, a call for speakers went out to various people around Aberdeen, UK, for the largest IT event on the calendar, Oil & Gas ICT, hosted by Scot-Tech.
I had a story to tell, and lessons to share, and it was right in my own backyard, but I had never done a public speaking event before, sure plenty of presentations and whiteboard sessions within the confines of company walls, but not subject to public scrutiny by your peers.
So I fired back the mail, with a rough guide of what I'd talk about, to Pete from Scot-Tech, and he'd seen similar talks before so he was keen to include it.
Over the next few months, I got more information through. It wouldn't just be a public talk, it would be a panel Q&A session too, again another first, would someone ask a question I couldn't answer and look foolish?
Preparation - an Introduction
I know plenty of others who have given public talks and attended many events on different subjects, seeing many different speakers and their different styles. I knew what was engaging & what wasn't.
I had also seen various different advice, from rehearsing only the first 5 minutes, to the whole talk, to taking part in stand up comedy boot camps.
VMware run their own events around the world often and have a preference for community speakers over just vendor talks. One of their community evangelists, Mike Laverick, started up a FeedForward program, where if you agree to talk, he will support and guide you, giving critical feedback on your talk and slide decks etc.
I knew a few people who had benefited from Mike's support, Nick Furnell, and Alan Norrie (a fellow Aberdonian, who gave a talk at the Scottish VMUG, and also talked at this same event).
However, as this wasn't a VMware event, and Mike was no longer at VMware, this isn't something I could take up, but it helped highlight the benefits of getting others to review & assist.
However, a friend was also giving a talk at the same event, his first one also, so we worked through the prep together, this didn't just help for practical preparation, but moral support also!
Practical Preparation
Over the years, I'd collected several books on public speaking, I'd like to say I went back and read those cover to cover, but I felt I needed something more interactive, so I signed up to several video-based courses on Udemy (although I did end up buying one extra book in 2016).
I could watch the Udemy videos at home and listen to the audio on the commute into work, and they helped me both in the creation of the slide decks, the structure of the talk, and how to avoid any fears or nervousness. I learned many valuable lessons.
One of the most valuable was just one chapter (1) from one audio book, The Power of Now. I didn't listen to the rest of the book, as it was pretty intense and I didn't want to mess with my mind too much, but there was one tip in there that would keep the nerves in check leading up to the talk itself:
If you find yourself questioning yourself, being negative, that's just your brain. It's not you. Tell it to be quiet.
Given I was going to stand in front of 100+ peers, I also invested in looking smart, new shoes etc, and got contact lenses for the first time in my life.
Udemy
Crush Your Fear of Public Speaking With Ease!
Presentation Bootcamp: Hands-On Content Creation Skills
Presentation Bootcamp: Hands-On Presentation Delivery Skills
Books
2013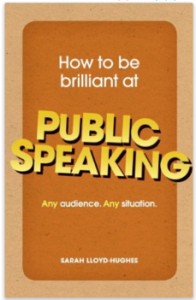 2014
2015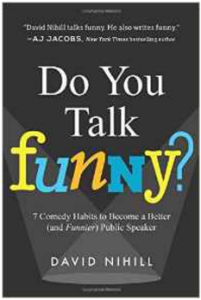 2016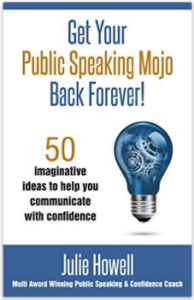 Creating the Slide Deck
The main lesson learned from the Udemy courses was the talk is for the audience. It's not for you. It's not about you. It's only about meeting the needs and wants of the specific audience in front of you. What will keep them engaged and not fall asleep or want to walk out of the room.
There is a specific course just on slide deck creation (Presentation Bootcamp: Hands-On Content Creation Skills) and would recommend following that if you need to put one together for the first time.
I would like to say my deck covered all the lesson's, but it didn't, pressures of time and other priorities saw to that, but it's better than it could have been.
The day before
The conference was a 2 day event, so in the morning I attended and talked to several people, to get a feel for what people were talking about, what they wanted to know, how they were feeling, so that I could fine tune my talk.
The morning of the talk
In the morning, I printed out my final version of the slide deck and supportive notes, and did the first run through. Some nerves and heart palpations quickly got under control through some of the techniques above, including taking deep breaths. I took a break, put in my contacts, ran through it a few more times, focusing especially on the start, then walked out the door to drive to the conference.
I met up with some friends and colleagues from work and chatted with them and toured around the vendor stalls and talked to them also, quite a few I already knew. At the Simplivity stand, I bumped into one of the people I'd talked to on twitter, Hani El-Qasem who was a veteran public speaker doing 15 a year, who gave me last minute moral encouragement, then into the hall itself.
1 hour before the talk
I saw a photo of the main hall a few weeks prior so wasn't completely surprised, but when I walked in and saw all the chairs, I didn't expect the display projection to be so big, it was huge! Luckily, my slide deck didn't look bad. Phew!
The next 30 minutes was getting introduced to Ray Bugg, and my co-panel presenters and the chair, where we swapped what we would be talking about, our backgrounds etc. I'm glad there was water on the table because I drank a LOT (because it was dry, not because drinking water keeps your voice in good shape, or Hani saying that Tony Blair used to drink lots before a talk so he could wrap it up quick!)
The Chair also asked what my talk was about in one sentence so he could give his introduction, and that was that. Time for us to give our talks.
Chair, Mark Stephen, BBC Broadcaster
Panelist, Doug Webster, Executive IT Consultant and former Global ERP Manager at Shell
Panelist, Morgan Eldred, Research Director, Gartner
5 minutes before my talk
Another panelist was doing his talk before me, and with the introduction that Mark Stephen, the chair, would give when it came to my turn, it quickly became apparent that the very start of my talk was irrelevant. A quick scoring out and re-structuring of my notes, more water, and I was ready.
The talk
What I had learned kicked in and it was pretty much automatic. Make eye contact with some of the audience. Look around at different sections of the audience. I felt it was going ok, apart from getting jumbled at one section, it did actually go ok.
The Q&A Panel
I need not had worried about the Q&A Panel so much, I knew my content and knew industry specifics.
After the talk
My co-panelists, who were experienced public speakers said I did well, shook hands and that was it. It was over.
I was glad that I did it, the biggest feeling was anti-climatic, having spent so long preparing for and building up for this, and now it was over.
I learned a lot throughout the experience that will be beneficial not just for public speaking.
There is still a lot to learn, and I'll keep learning for the next time, but I'll know next time I'll be able to do better, and that's what it's all about.
I shared my story, what I knew, I know I could have done better, but I didn't crash and burn, and I'll be much better the next time for having done this.
Lessons Learned
If I were to do it again, I'd also do the following:
Set myself personal deadlines. There's nothing like a deadline to force you to get stuff done.
Practice more. Practice so much that you don't need any notes. So you can focus 100% on delivery and audience reaction.
Thanks
Thanks go to Simon Wardley who gave me the ok to include his content.
More Pictures