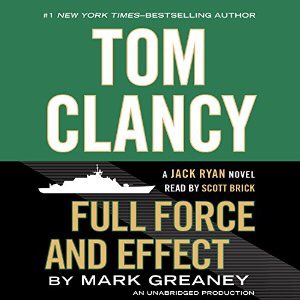 Product Description:
The newest JACK RYAN thriller from Tom Clancy, following on from Command Authority, sees the return of the best loved series character from the world's favourite international thriller writer.
North Korean ICBM crashes into the Sea of Japan. A veteran CIA officer is murdered in Ho Chi Minh City, and a package of forged documents goes missing. The pieces are there, but assembling the puzzle will cost Jack Ryan, Jr. and his fellow Campus agents precious time. Time they don't have.
The challenge facing President Jack Ryan is an old one with a terrifying new twist. The international stalemate with North Korea continues into its seventh decade. A young, untested dictator is determined to prove his strength by breaking the deadlock. Like his father before him, he hangs his plans on the country's nuclear ambitions. Until now, that program was impeded by a lack of resources. However, there has been a dramatic change in the nation's economic fortune. A rich deposit of valuable minerals have been found in the Hermit Kingdom. Coupled with their nuclear capabilities, the money from this find will make North Korea a dangerous force on the world stage.
There's just one more step needed to complete this perfect plan…the elimination of the president of the United States.
Thirty years ago Tom Clancy was a Maryland insurance broker with a passion for naval history. Years before, he had been an English major at Baltimore's Loyola College and had always dreamed of writing a novel. His first effort, The Hunt for Red October, sold briskly as a result of rave reviews, then catapulted on to the New York Times bestseller list after President Reagan pronounced it 'the perfect yarn'. From that day forward, Clancy established himself as an undisputed master at blending exceptional realism and authenticity, intricate plotting, and razor-sharp suspense. He passed away in October 2013.
Mark Greaney is the co-author of three #1 New York Times bestellers with Tom Clancy. He has a degree in international relations and political science. In his research for these novels, Greaney travelled to seven countries and trained alongside military and law enforcement in the use of firearms, battlefield medicine and close-range combat tactics. He lives in Memphis, Tennessee.
Find out more at www.tomclancy.com, facebook.com/TomClancyAuthor or @MarkGreaneyBook
http://www.audible.co.uk/pd/Crime-Thrillers/Full-Force-and-Effect-Audiobook/B00PKJBN5M/ref=a_search_c4_1_1_srTtl?qid=1421533347&sr=1-1#publisher-summary